Pretty Little Liars is an extremely popular television show where I live. Everyone who's anyone is watching it. This past Monday was the season finale of the current season. Pretty Little Liars will resume in 10 weeks on ABC Family.
Anyways, in the season finale, the big promotion for it was that we were supposed to find out who 'A', the omniscient being that is everywhere all the time leaving the girls notes and scaring them into doing whatever it is that 'A' wants them to do, is. People that haven't watched the show since the Pilot episode of the first season were tuning in to finally find out who A is.
It used to be that each Monday I had to be home at 8PM so that I could watch Pretty Little Liars. But then reality took a hold, life got busy, and soon I was no longer making it home by 8 on Mondays to watch Pretty Little Liars. I would end up hearing what happened in it anyways, since, like I said, everyone around here watches it. But Monday, instead of going to Rita's Italian Ice for free Italian ice for the first day of Spring, I rushed home from Interact Club Inductions to watch Pretty Little Liars.
In the beginning, I was a bit confused, as would be anyone who has missed the past few episodes, but I quickly got caught up, remembering what people had told me had happened in the previous episodes. I was drawn to my television and didn't want the show to end. Pretty Little Liars is a wonderful example of why people don't want to leave the television alone. It was like you were a part of the show, or reading a good book. Whether you were 'viewing from afar' or actually one of the characters, you felt like that was truly happening. It is a great way to escape the reality of the harsh world we live in today.
I had predicted long ago that Mona would end up being A. (I did not read any of the Pretty Little Liars books that the television show is based of off and I did not have any idea that in the books Mona was A.) As soon as Spencer and Mona were in A's "lair", as Spencer called it, I knew we were getting to the A part. When Mona offered Spencer gum and then Spencer found a gum wrapper saving a page in Allison's diary, without even getting a good look at the type of gum Mona had, I immediately knew that Mona was indeed A. Spencer did, too. I felt so smart! But then Mona admitted she was part of A. Well, if she wasn't A herself, and not even a main part of A, just a lousy pawn, then who were the other people involved that called themselves A??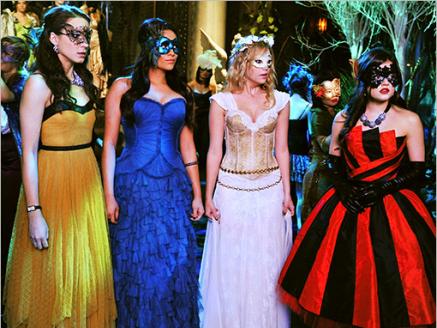 I knew that the producers were not going to just let everyone know who A was because then it would mean the end of Pretty Little Liars, and with so many viewers they would be out of their right mind to cancel the show, but the finale simply left more questions unanswered and leaved many of the viewers wanting more. What a great way to leave the season on a cliffhanger, but at the same time, advertising that everyone would find out who A was and not giving us all -or even most- of who A is, is false advertising in my mind. But it is still a good show and I think because of the finale and because of the people who watched it just for the chance to find out who A is, that Pretty Little Liars will gain even more viewers and watchers and PLL Addicts.
The people in charge of the television show are some smart people, and the author of the books had some terrific ideas. I have no idea how similar the books are to the show, but based on the show's popularity, the books must've been doing something right.